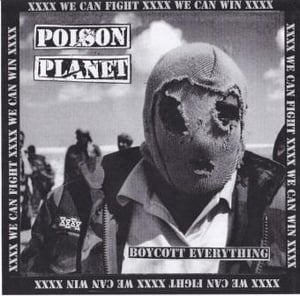 $

10.00
Originally pressed as a 7" on Refuse Records out of Europe for Poison Planet's European tour in June 2011, the US version has been a year long project. The band felt that the 7" format lacked the visual impact that they intended and the lyrics and art had been rushed. The US version is a one sided 12" EP, with a screen printed "B" side. The front and back cover art have been updated and the lyric sheet has expanded from a small jam packed insert that was just columns of white text on a black background to include relevant imagery and additional essays. Lastly, to add to the final package they've included a 24"x36" black and white poster.
Comparisons are consistently made to early 80's Boston hardcore, early Corrosion of Conformity, The Repos, and with this release an emerging element of Dead Kennedys influence.
1st press of 500. Black vinyl with B side screen print. ThirdxParty/NotNormal.
All mailorders will come with additional Poison Planet stickers and promo poster.
Track listing:
Liquor Flesh Trade
Boycott Everything
I Hope You Choke
Border Fences
Tidal Leveling